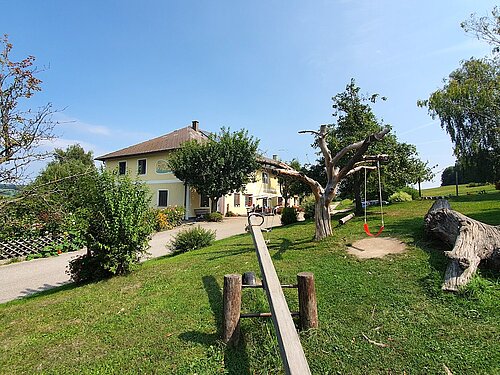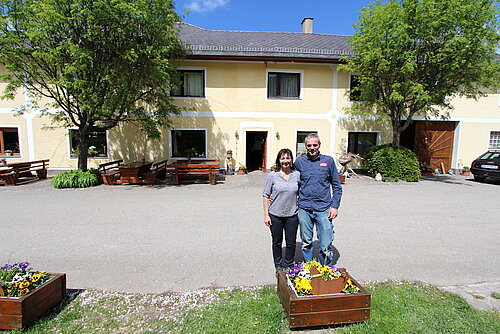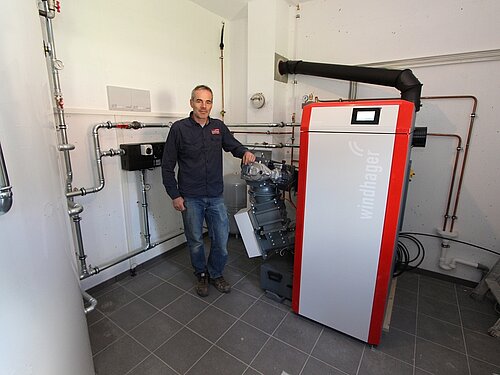 Innovative wood chip gasification boiler warms a mountain farm
If you want to enjoy a relaxing farm holiday, the Forellenhof of the Erber family is the right place for you. The lovingly maintained square plot is located in the Texingtal in the picturesque Mostviertel. It is important to owner Gertraud Erber and her husband Karl that their guests feel completely at ease. A reliable heat supply also plays a major role in this. As the old wood chip heating system was already getting on in years, the Erber family invested in a new wood chip system in the summer of 2019.
It quickly became clear to the innkeepers that only a PuroWIN wood chip gasification boiler from Windhager would be considered for their farm. The two of them had already bought a PuroWIN a year earlier for their nearby overflow house and had already had very good experience with it. "We were immediately impressed by the innovative updraught gasification and the robust design. The PuroWIN heats very cleanly and with virtually no emissions. This is especially important to us as nature lovers," says Karl Erber.
Low maintenance
Since looking after the guests and the animals on the farm involves a lot of work, it is all the more important to keep the maintenance effort for heating in check. The PuroWIN's robust mixer protection and safety auger with sideshift technology ensure smooth transport of the wood chips from the storage to the boiler. Due to the sealed boiler design, the ember bed lasts a long time without having to add fuel or air. During this time, the boiler heats up again by itself. On the one hand this saves valuable ignition energy and, on the other hand it saves the Erber family the time needed for reheating.
The patented ash removal system is another special feature: It is unaffected by foreign bodies while also allowing the heating operation to continue as usual in the meantime. In addition, the PuroWIN does not need a heavy current power supply; a normal 230-volt socket is sufficient.
Simply practical – Heating control via smartphone
The living area and the guest rooms are also supplied with heat by the PuroWIN system, as is a hay drying system. The Erber family likes the ease of use in particular. "We can control our wood chip system from anywhere with our mobile phones. It's very practical and convenient," Karl Erber raves. "The investment in our new heating system was definitely worth it!"
| | |
| --- | --- |
| Overview: Reference from the Erber family of the Forellenhof trout farm | |
| Energy type | Wood chips |
| Site | Basement/boiler room |
| Area of use | Multiple-family home |
| Heatable surface | 300 m2 |
| Fuel feed | Direct discharge agitation system |
| Accessories | 1,500 l heat accumulator |