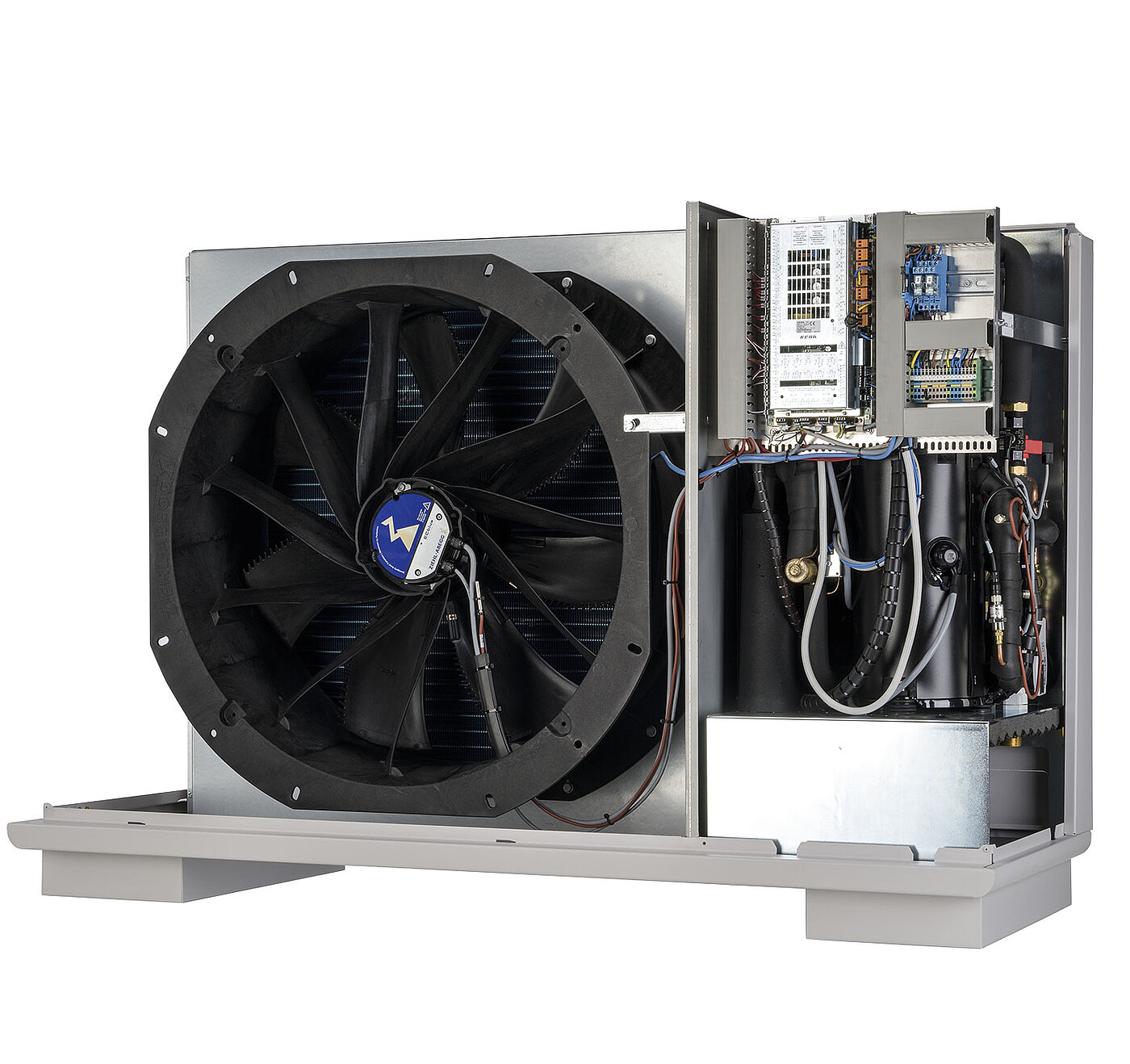 X
Maximum efficiency with minimum operating costs for new constructions and refurbishments
X
Optimised private consumption of self-generated PV electricity
X
Ultra quiet operation thanks to owl wing fan and intellig ent power adjustment
The advantages at a glance
+ Optimised private consumption of self-generated PV electricity
+ Maximum efficiency with minimum operating costs for new constructions and refurbishments
+ Ultra quiet operation thanks to owl wing fan and intellig ent power adjustment
Strong arguments
MAXIMUM EFFICIENCY WITH MINIMUM OPERATING COSTS FOR NEW CONSTRUCTIONS AND REFURBISHMENTS
The AeroWIN Evolution achieves flow temperatures of up to 62° C and has an impressive maximum energy efficiency class of A+++. Using just 1 kW of electricity, it achieves up to 5 kW of heat output.
OPTIMISED PRIVATE CONSUMPTION OF SELFGENERATED PV ELECTRICITY
Thanks to the intelligent control of the AeroWIN Evolution, the electricity produced by the photovoltaic system can be optimally used for private consumption. The water is fed into the grid only if the hot water tank is charged and the house is comfortably warm or at a pleasant temperature.
ULTRA QUIET OPERATION
A number of technical details such as the slowly rotating fan with an owl wing design, the sound insulation, the generously dimensioned evaporator and the intelligent power regulation ensure ultra quiet operation. As a result, you and your neighbours will hardly notice that the heat pump is operating.
AeroWIN Evolution - Special features (in German only)
PREMIUM QUALITY MADE IN AUSTRIA
Years of experience and the high-quality processing of premium components ensure trouble-free operation for many years. The inverter technology of the AeroWIN Evolution ensures minimal wear.
STANDARD ACTIVE COOLING
With the AeroWIN Evolution, the heating system instantly becomes a cooling system – and as a standard feature at that. Via surface heating systems such as floor, wall or ceiling heating, the heat pump also ensures a pleasant indoor climate during the summer.
EASY AND COMFORTABLE TO OPERATE FROM ANYWHERE
No matter where you are, you can control your room temperature conveniently via a smartphone, tablet or PC. If you need, your installer can also diagnose an issue and assist you remotely. This saves time and travel costs.
JUST LIKE NATURE:
ULTRA QUIET.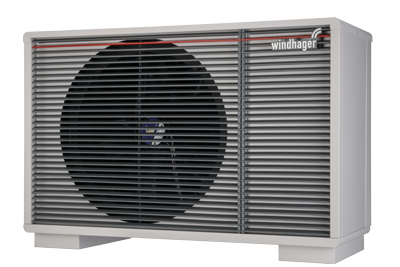 THE RIGHT HEAT PUMP FOR YOUR HOME
How do you know which heat pump is the right one? The decisive factor here is not only the area to be heated but also the thermal insulation. We would like to give you some guidance using design examples we have chosen based on three different building types with an approximate determination of the heating load:
Buildings without special thermal insulation
Buildings with normal thermal insulation built before 1995
New constructions with good insulation
To choose the right model, we always recommend making an accurate calculation of your specific standard heating load.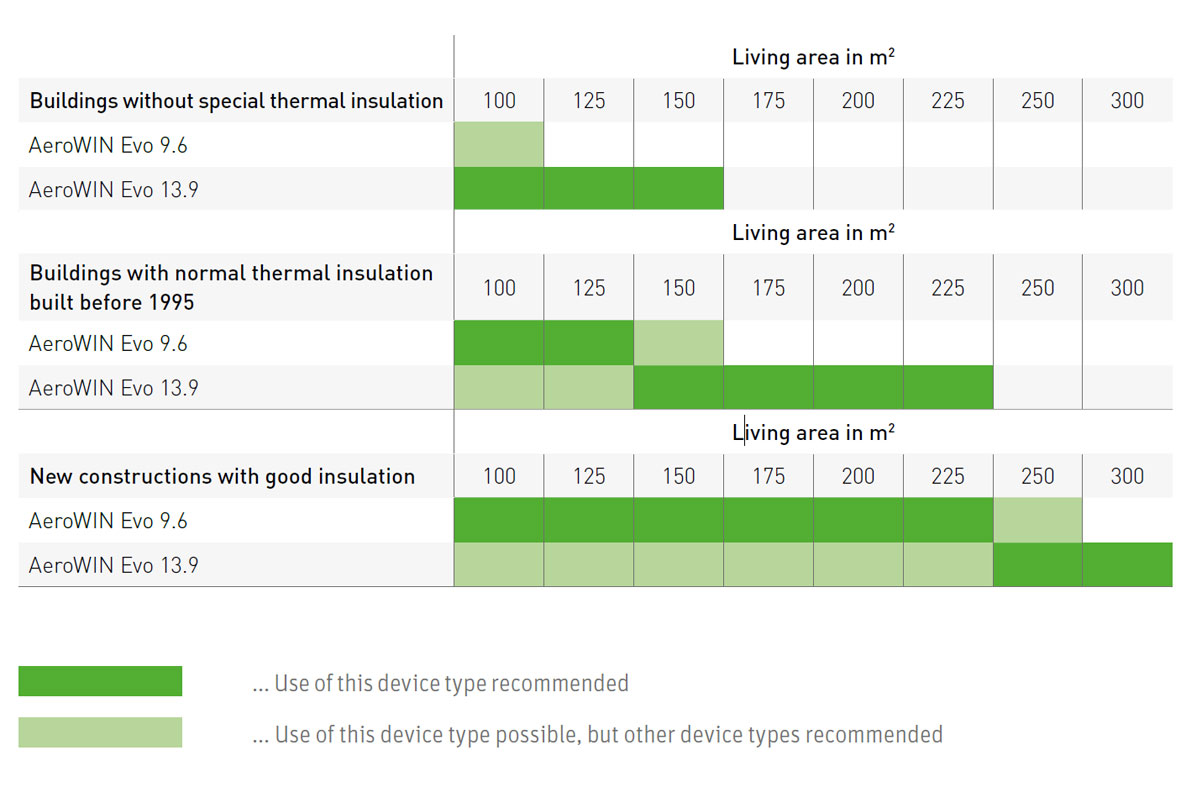 This is a rough calculation based on the following assumptions:
Heating load of the building classes and conditions:

Older building without special thermal insulation: 120 W/m2

Buildings with normal thermal insulation built before 1995: 80 W/m2

New constructions with good insulation: 50 W/m2

Low temperature application designed for 35 °C flow temperature

Standard outside temperature: -13 °C

Heating limit: 15 °C

Bivalence point: <= -5 °C

Water heating for 3 people (0.2 kW per person)

No EVU blocking times
ATTENTION: To choose the right model, we always recommend making an exact calculation of your specific standard heating load.
HOW DOES A PHOTOVOLTAIC SYSTEM WORK?
The heart of the system consists of the photovoltaic modules (1), which produce direct current from solar energy. The inverter (2) converts this into household electricity, which can then be used for household electricity consumers, e.g. the washing machine (3). Surplus electricity is fed back into the public power grid (5) via an electricity meter (4). You can use this excess electricity even more efficiently to operate your heat pump (6). This is made possible by the use of a PV meter (7) (available from Windhager as an accessory). By means of a pulse interface, this meter transmits the information about the available excess energy to the heat pump. If the power exceeds a value that can be set via the control for a defined time, the excess energy operation of the heat pump is activated. In this mode, heat consumers request the adjustable set temperatures – which is higher as compared to normal operation. This helps you optimise the private consumption of your PV system and save cash.
PV MODULE
PRODUCTION OF DIRECT CURRENT FROM SOLAR ENERGY

INVERTER
CONVERSION FROM DIRECT CURRENT TO HOUSEHOLD CURRENT

ELECTRICAL CONSUMERS
USE OF PV ELECTRICITY

CURRENT COUNTER
GRID SUPPLY AND SURPLUS FEED-IN

PUBLIC ELECTRICITY NETWORK
TRANSPORT AND DISTRIBUTION OF ELECTRICAL ENERGY

AIR/WATER HEAT PUMP
HEATING, COOLING, WATER HEATING

PV COUNTER
DETERMINING PV SURPLUS AND COMMUNICATING WITH HEAT PUMP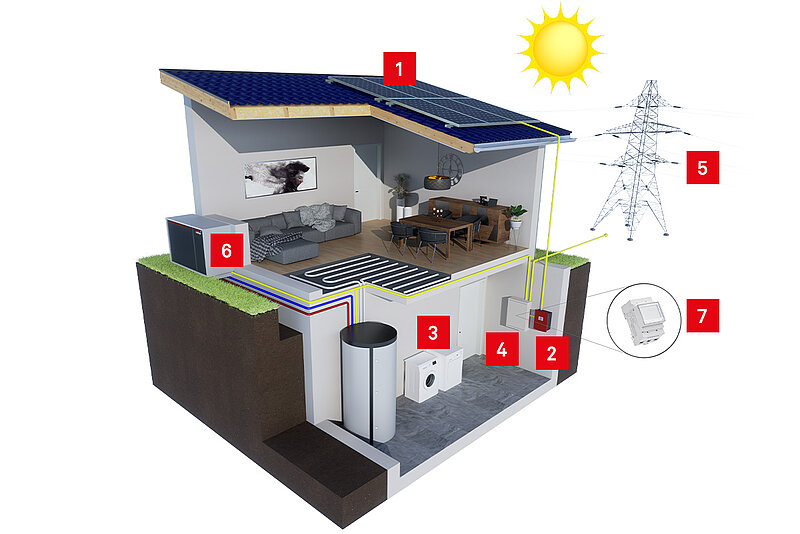 Technical Data
AeroWIN Evolution Packages
AeroWIN Evo 9.6
AeroWIN Evo 13.9
Package consisting of:
Heat pump incl. Touch AP 440 operating module
Additional electric heating with 6 or 9 kW
3-way valve with 1" or 5/4"
Safety group

AW 9 E
ZH 6
UW 1
SGRP

AW 13 E
ZH 9
UW 1.25
SGRP
Heat output (min./max.)
A2/W35
A-7/W35
kW
kW
1,9/12,1
2,8/9,4
2,7/17,0
4,1/13,2
Thermal output (EN 14511)
A2/W35
A-7/W35
kW
kW
6,6
8,0
9,0
12,5
Coefficient of Performance, COP (EN 14511)
A2/W35
A-7/W35
4,6
3,2
4,3
3,2
SCOP (EN 14511)
4,95
4,57
Cooling capacity (min./max.)
A35/W7
A35/W18
kW
kW
2,9/5,6
3,9/8,1
4,4/8,6
5,9/12,5
Cooling efficiency EER (max.)
A35/W7
A35/W18
2,5
3,7
2,6
3,7
Sound power level (EN 12102)
dB(A)
45
50
Sound power level max.
dB(A)
60
62
Operating limit, heat source min.
°C
-22,5
-22,5
Operating limit, heat source max.
°C
62
62
Energy efficiency class for average climate
(W35/W55)
A+++/A+++
A+++/A+++
Refrigerant
R452B
R452B
Global Warming Potential of the refrigerant (GWP)
676
676
Dimensions (height x width x depth)
mm
1040 x 1555 x 605
1205 x 1750 x 675
Weight
kg
233
298