Absolutely flexible
X
360° rotatable air inlets and outlets
Save energy
X
Save up to 75% on energy costs thanks to high COP value
Using your own photovoltaic electricity
X
Integrated PV input
Easy adjustment
X
Intuitive operation with large display
Hygiene and quality
X
Enamelled hot water tank with protective magnesium anode
High safety levels
X
External condenser – drinking water protection
A true virtuoso
X
Integration of boiler or solar thermal system possible
Cogent to the smallest detail

Using the warm room or outdoor air, the heat pump unit can heat the water in the tank particularly efficiently. Compared to a purely electric hot water tank, electricity consumption can be reduced by up to 75 per cent.

The air inlets and outlets of the AquaWIN Air3 can be rotated 360°C. This is particularly advantageous if the room height is low or if the domestic hot water heat pump is installed in a corner.

The AquaWIN Air3 can be combined with a photovoltaic system. If solar energy is available, the drinking water is heated virtually free of charge with the heat pump.

The enamelling and the standard protective magnesium anode ensure that the tank is protected from corrosion and also ensure hygiene.

The condenser transports the heated refrigerant, which transfers the heat to the water inside. The AquaWIN Air3 has a safety condenser that is located on the outside of the tank. This prevents the refrigerant entering the drinking water in the event of a leak.
The advantages at a glance
+ Flexible installation due to air inlets and outlets that can be rotated through 360°
+ Reduce electricity used by up to 75 per cent thanks to integrated heat pump
+ Photovoltaics, thermal solar heating system or boiler can be incorporated
+ Large display and intuitive knob and pushbutton operation
Types of hot water provision
The AquaWIN Air3 can heat the drinking water in three different ways. Depending on the requirements or the time of year, hot water can be provided either by only the heat pump unit, or by the heat pump together with electricity from the PV system, or also by the existing boiler.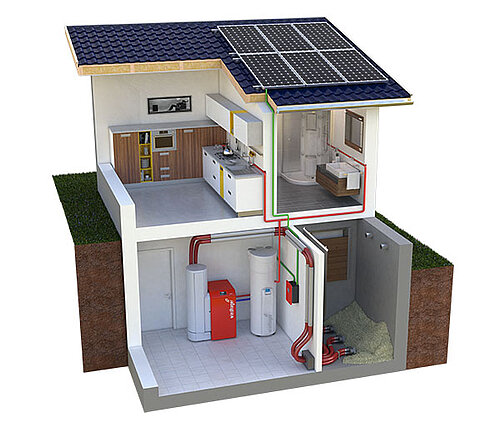 Heat pump
In summer and during transitional periods, hot water provision with the heat pump is particularly efficient and economical. The boiler is protected and no additional fuel is required.
Photovoltaic system
If you have your own photovoltaic system, the virtually free electricity from the sun can of course also be used to heat water with the heat pump. As soon as there is voltage at the inverter, it sends a signal to the AquaWIN Air3 and the water is automatically heated to 62°C.
Boiler
In winter when the boiler is already operating for space heating, it can also be used to provide hot water at the same time.
Technical data
The AquaWIN Air3 is available in two sizes (200 and 270 litres).
Type
AWA 203
AWA 273
Contents
l
200
270
Total width
mm
620
620
Total depth
mm
665
665
Distance between centres of openings
mm
418
418
Height of hot water connection
mm
961
1,300
Height of hot water tank VL & RL
mm
640
640
Height of cold water supply
mm
462
462
Height of condensation drain
mm
1,166
1,525
Total height
mm
1,617
1,957
Tilted height
mm
1,750
2,070
Empty weight
kg
97
111
Energy efficiency class for DHW
m2
A+
Load profile for DHW
L
XL
Average power consumption of heat pump
W
700
Coil heater surface
m2
1.2
Heat output level (COP at air temp. of 7°C)
2.8
3.0
Heat output level (COP at air temp. of 20°C)
3.3
3.8
Max. air flow rate
m3/h
310
Sound power level (ISO3744)
dB(A)
53
Operating range of heat pump at air temperature
°C
-5 to +43
Power consumption of el. immersion heater
kW
1.6
Air inlet/outlet connection
DIN 160
Cold/hot water, circulation connections
¾" ext. thread
Heating coil connections
1" int. thr.
Refrigerant
R513A