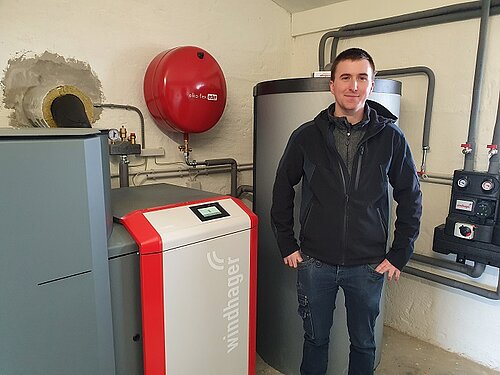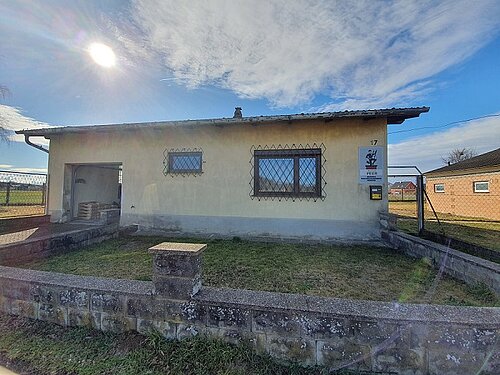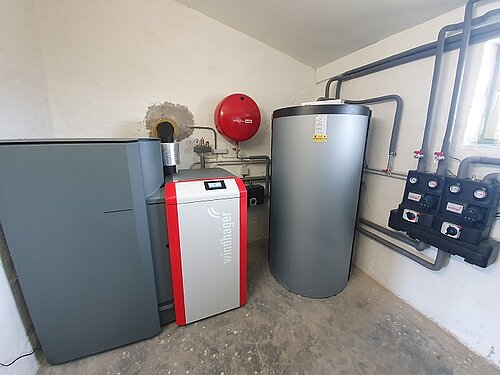 A chimney sweep who heats with pellets
BioWIN2 Touch for master chimney sweep Bernhard Peer
Master chimney sweep Bernhard Peer has replaced the old electric heating system in his business. Since the beginning of the year, he has been heating with a Windhager BioWIN2 Touch pellet boiler with a weekly hopper. The expert in heating is completely satisfied with his decision.
Bernhard Peer has been working as a chimney sweep for 13 years, a profession that is a symbol of good luck in Austria. In 2012, he took over a chimney sweeping business in Ziersdorf in Lower Austria. He employs two people and he has also taken on an apprentice again since autumn. In 15 localities, the 3-member team takes care of all the legally required chimney sweeping, carries out flue gas measurements and does the cleaning. He is also the first point of contact for many customers when it comes to renovating their heating systems.
Chimney sweep heats with pellets
In his own business, Bernhard Peer had been wanting to replace the old electric heating for some time. This equipment did not work efficiently and generated high heating costs. As an alternative, the expert would consider nothing else but a pellet heating system. Not only does he have to deal with pellet boilers at work, but his own parents' house has also been heated with a BioWIN from Windhager for many years, to their complete satisfaction.
Pellet boiler with weekly hopper
Office, changing rooms, warehouse facilities: Bernhard Peer's business premises manages with about 90 square metres of heated space. The boiler room measures just under eight square metres. Nevertheless – thanks to the detailed planning by the installer Krammer and the Windhager Area Manager Hubert Wieseneder – the BioWIN2 Touch with weekly hopper and a 500-litre accumulator tank was the ideal solution. Because the required heat output is only 7.2 kW, Peer has to fill the 200-kilogram pellet weekly hopper with bagged goods only once every two to three weeks during the heating season. Bernhard Peer has emptied the ash box only once since February – not because it was necessary, but out of pure curiosity.
Fourth pellet boiler generation
The BioWIN2 Touch pellet boiler from Windhager contains more than 20 years of experience and is the best of four generations. The boilers have always been manufactured 100% in Austria, at the company's site in Seekirchen am Wallersee. The BioWIN2 Touch scores high with its robust craftsmanship, convenient cleaning mechanisms and innovative control with touch technology and operation via an app. Bernhard Peer is also particularly enthusiastic about the simple operation via remote control. Thanks to the myComfort control app, he is always informed about the status of his heating system on his smartphone. He can make changes easily and at any time. And because even a chimney sweep can always use some good luck, we wish Bernhard Peer all the best with his new pellet heating system!
Overview: Reference from chimney sweep Bernhard Peer
Energy type
Pellets
Site
Basement/boiler room
Area of use
Trade
Heatable surface
90 m2
Fuel feed
manual, 200 kg, weekly hopper
Fuel requirement/year
1.8 tonnes
Accessories

500 l accumulator tank

MES Infinity

App MyComfort

Old equipment
Electric heating system