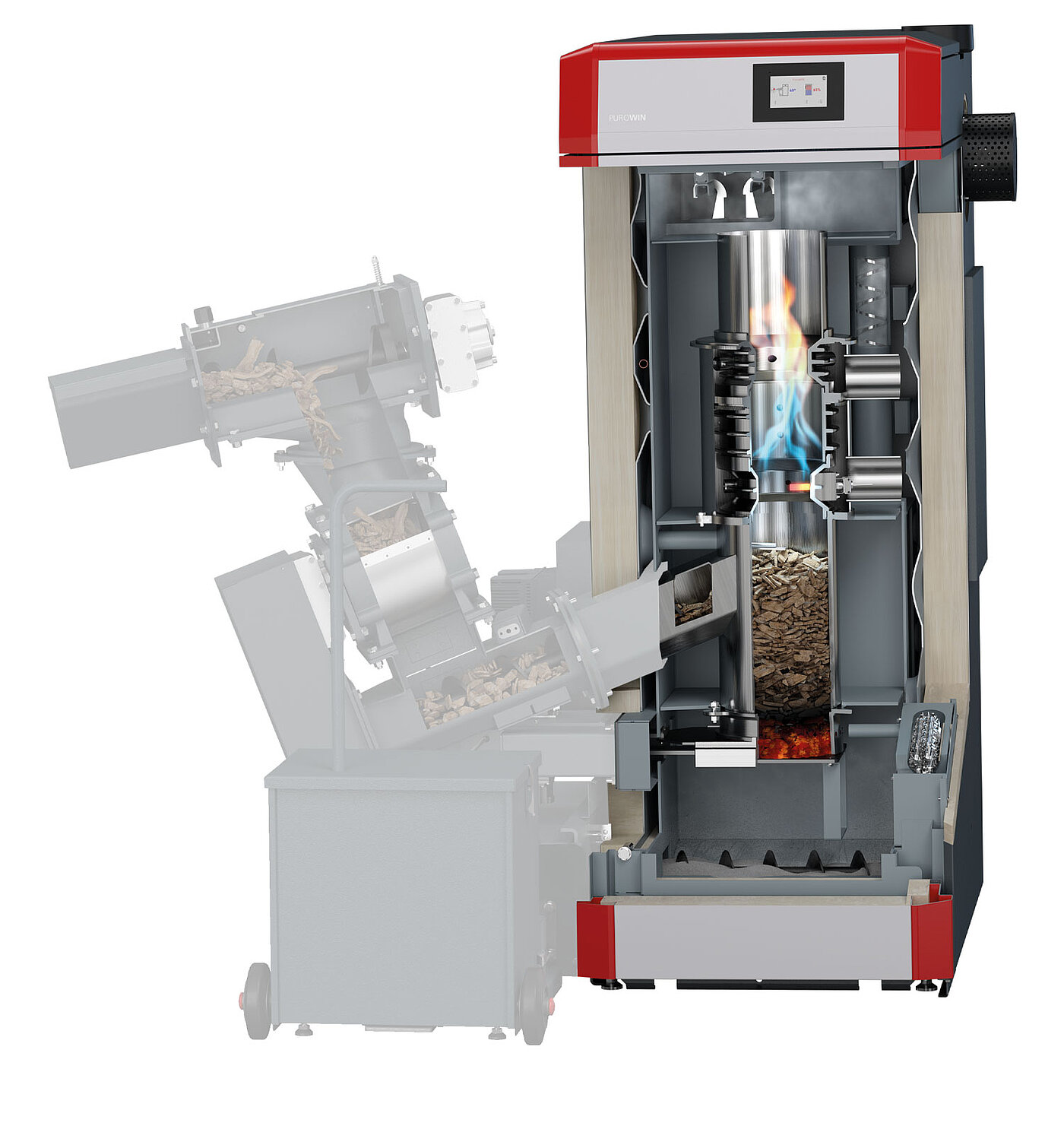 X
Vertical or horizontal flue connection available
X
High-quality InfoWIN touch display with glass surface for intuitive operation
X
Robust combustion chamber made from stainless steel and cast iron
X
Combustion of ascending wood gases
X
Fresh, unburned wood chip
X
Automatic ash conveyor in the ash box
X
Automatic coasting surface cleaning
Cogent to the smallest detail

Vertical or horizontal flue connection available

High-quality InfoWIN touch display with glass surface for intuitive operation

Robust combustion chamber made from stainless steel and cast iron

Combustion of ascending wood gases

Fresh, unburned wood chip

Ember bed

Twin ash removal plate

Automatic ash conveyor in the ash box

Automatic coasting surface cleaning
Direct feed system to the wood chip boiler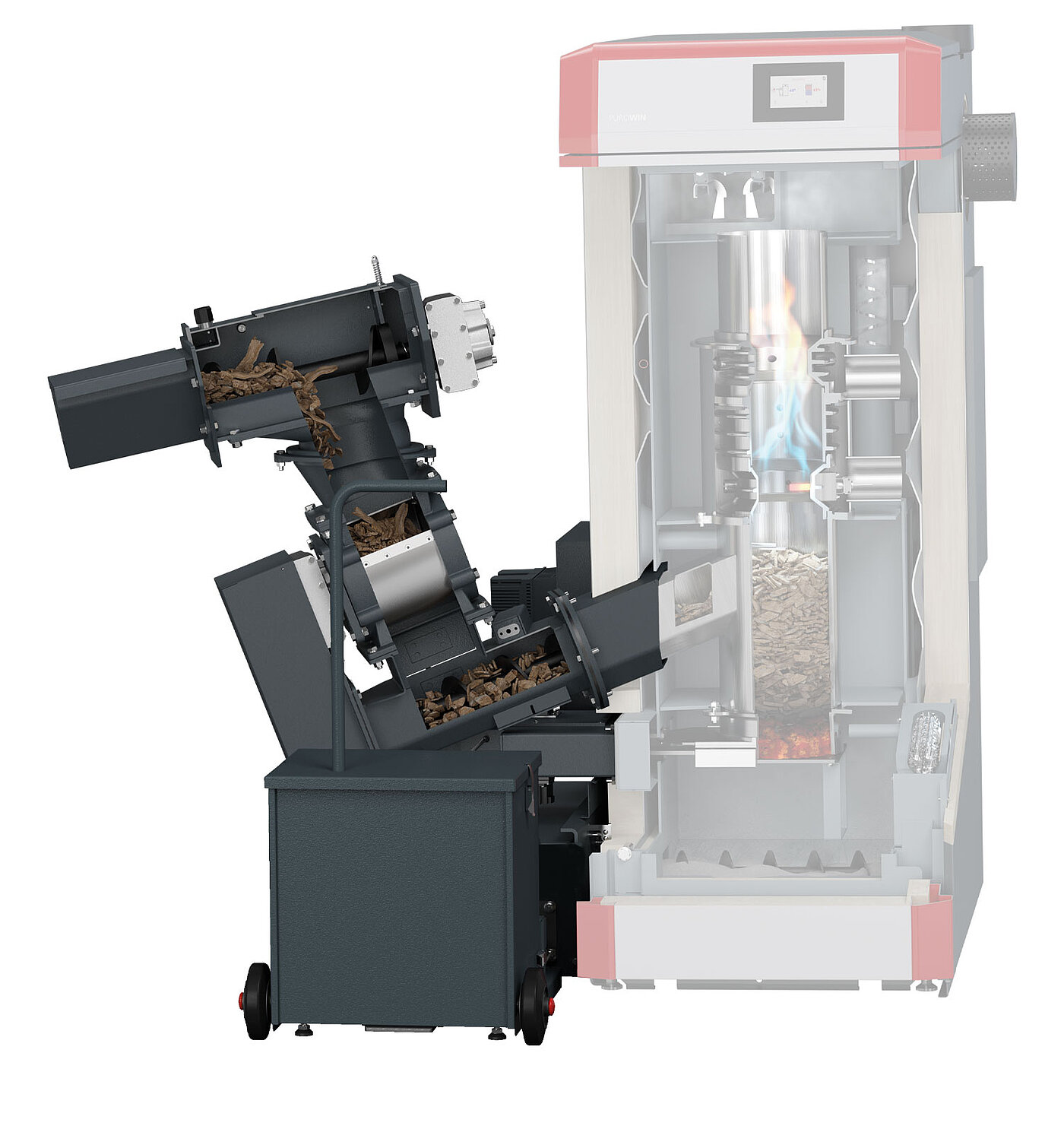 X
Complete room clearing system has minimal power consumption of 120 W on average
X
Large, asymmetric auger channel
X
Operated with 230 V connection
Cogent to the smallest detail

Complete room clearing system has minimal power consumption of 120 W on average

Anti-blocking system

Large, asymmetric auger channel

Smart rotary feeder

Operated with 230 V connection
Suction feed system to the wood chip boiler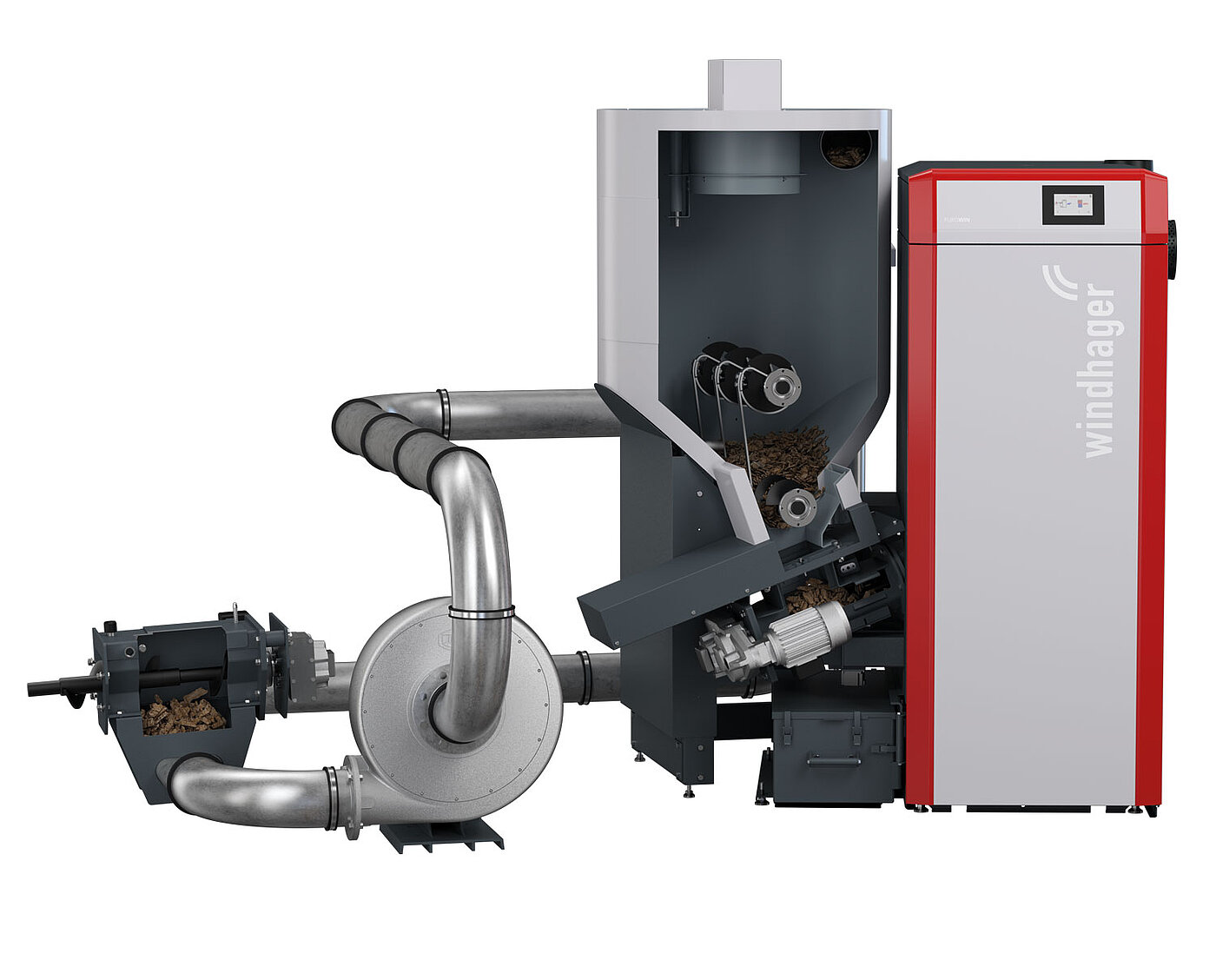 X
Robust stainless steel fuel hopper with a 270L capacity
X
Mixer for smoothly transporting wood chips into the wood chip boiler
X
Return pipe which only draws in air
X
Blower located in the storage room itself
X
Auger for transporting the wood chip out of the storage room
Cogent to the smallest detail

Robust stainless steel fuel hopper with a 270L capacity

Mixer for smoothly transporting wood chips into the wood chip boiler

Return pipe which only draws in air

Fire protection slider

Piping in which the wood chip is transported to the boiler

Blower located in the storage room itself

Transfer box

Auger for transporting the wood chip out of the storage room

The advantages at a glance
+ Very low dust emissions due to patented gasification boiler technology
+ Very low power consumption due to optimised feeding system technology
+ Optionally with auger or unique wood chip suction system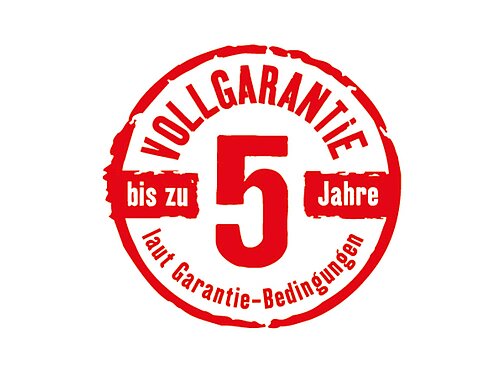 PuroWIN - NEW: Available with a 240 litre ash bin!
PuroWIN ash bin
With our 240 litre ash box we are able to achieve emptying intervals of up to an entire heating season (depending on fuel and boiler output). The galvanised steel container is on wheels to make it easier to take out. A flexible auger is used to further compress the ash and transport it automatically to the ash box.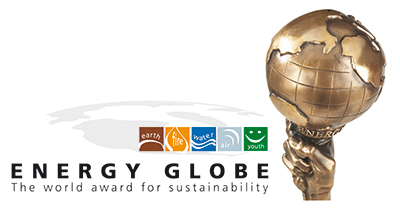 PuroWIN cascade
The PuroWIN covers heating requirements up to 100 kW. The boilers can also be connected to create cascades covering heating requirements up to 400 kW, making them suitable for use in larger-scale agricultural holdings, commercial and municipal buildings, or even hotels.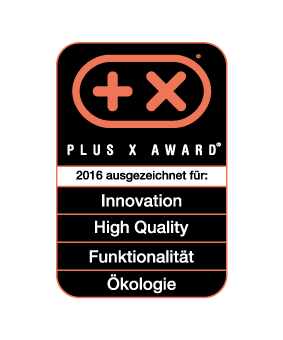 PuroWIN Awards
Windhager offers you up to a 5 year full guarantee. The PuroWIN wood chip boiler received the Energy Globe Award in the Fire category and the Plus X Award in the Innovation, High Quality, Functionality and Ecology categories. As part of the Salzburg Business Award, the PuroWIN achieved an excellent second place in the Innovation category. In addition, the PuroWIN was awarded the Agrarfuchs in Gold by the province of Upper Austria and the German Ecodesign Award by the Ministry for the Environment.
JUST LIKE NATURE:
BURNS WITHOUT
EMISSIONS.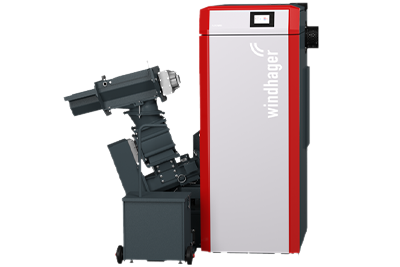 Windhager PuroWIN – The revolution in wood chip heating
Technical data
The PuroWIN is available in a total of 9 different forms.
PuroWIN 24 - 60
Not a combined heat and power unit.
Type
PW 24
PW 30
PW 40
PW 49
PW 60
Nominal thermal output range
kW
7.2 - 24.0
9 - 30
12 - 40
14.7 - 49
18 - 60
Boiler efficiency at nominal load (W20 wood chips)
%
93.5
93.4
93.8
94.2
94.7
Total boiler weight
kg
621
621
657
657
688
Transport weight of boiler body
kg
497
497
531
531
562
Weight of fuel hopper (with suction feed system)
kg
110
Volume of fuel hopper (with suction feed system)
l
270
Flue gas connection diameter
mm
130
Power consumption of boiler during part load
kW
0,053
0,054
0,060
0,066
0,072
Power consumption of boiler during nominal load
kW
0,081
0,092
0,105
0,120
0,133
Maximum power consumption in continuous operation
kW
0,231
0,191
0,218
0,249
0,276
Dimensions of the boiler body on a pallet, W x D x H
mm
780 x 975 x 1795
Minimum installation dimensions of boiler body, W x D x H
mm
768 x 975 x 1663
Minimum installation dimensions of the fuel hopper, W x D x H
mm
800 x 1211 x 1356
Energy efficiency class
A+
PuroWIN 72 - 103
Not a combined heat and power unit.
Type
PW 72
PW 83
PW 99
PW 103
Nominal thermal output range
kW
21.6 - 72
24.9 - 83
29.7 - 99
30.9 - 103
Boiler efficiency at nominal load (W20 wood chips)
%
94.3
93.8
93.1
93.1
Total boiler weight
kg
1007
Transport weight of boiler body
kg
881
Weight of fuel hopper (with suction feed system)
kg
135
Volume of fuel hopper (with suction feed system)
l
475
Flue gas connection diameter
mm
180
Power consumption of the boiler at partial load
kW
0,093
0,116
0,141
0,141
Power consumption of the boiler at nominal load
kW
0,174
0,220
0,294
0,294
Maximum power consumption in continuous operation
kW
0,301
0,327
0,355
0,355
Dimensions of the boiler body on a pallet, W x D x H
mm
920 x 1065 x 1850
Minimum installation dimensions of boiler body, W x D x H
mm
890 x 1050 x 1710
Minimum installation dimensions of the fuel hopper, W x D x H
mm
800 x 1211 x 1756
Energy efficiency class
A+